04/01/09 : Slow cooked beef in red wine
I've been told I have to write something. So, in the absence of a proper New Year post, which may or may not follow, but let's face it probably wont, here is a nice winter-warmer dish - perfect for relatives that may have received a slow cooker for xmas.
The amounts given will serve two, but you can double everything if you want (I sometimes do this and freeze what's left)
You will need: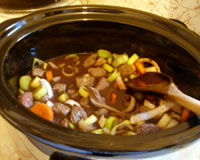 Beef - braising steak or similar, cut into bite sized pieces with all the bad stuff removed (some marbling of fat is good, great big lumps aren't)
1-2 carrots
a large leek
about 100g chopped tomatoes in juice (from a tin - or a couple of skinned, de-seeded and chopped tomatoes and a squidge of tomato puree, whatever you have)
200ml beef stock (use an oxo cube)
200ml red wine (you'll be left with a couple of glasses to drink)
Freshly ground pepper, a little salt, some herbs of your choice if you can be bothered
- - -
Wash/scrape/trim the leek and carrots and cut them into rounds. Layer at the bottom of the slow-cooker pot and add seasonings and herbs, tomatoes and stock.
In a large frying pan, fry the beef (a few bits at a time) in a little olive oil for a few minutes until nicely browned. Add to the pot.
Add the wine to the frying pan and turn the heat up, stirring until it comes to the boil to deglaze, then pour into the pot.
Stir well, put the lid on and cook on the higher setting for about six hours.
Serve with mashed potatoes (lots of butter, plenty of freshly ground black pepper) and the rest of the wine. About the same time as you put the potatoes on, mix a tablespoon of cornflour in a cup with a little water and stir into the casserole to thicken slightly.