Archive : August 2009
27/08/09 : Chicken Korma
All the recipes I could find for this were completely different so I thought I'd start from scratch. It works - the spices seem right, the garlic and ginger work well together as do the coconut and yogurt, but I do think it's missing something. Or maybe I just like my curries with a bit more kick.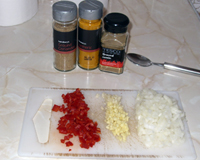 2 chicken breasts, cut into large chunks
a small onion, finely diced (or pureed)
2-3 cloves garlic, finely chopped
same amount of chopped ginger
2 red chillis, de-seeded and chopped small
a level tsp each of ground cumin, corriander and tumeric
200ml coconut milk
150ml natural yogurt (not low fat!)
heaped tbsp ground almonds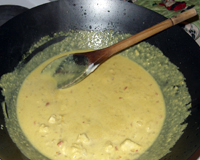 Stir fry the chicken over a fairly high heat until cooked through, then remove (put some rice on at this point, it'll take just under 15 minutes). Add a little more oil then fry the onion for a minute or so, then add the garlic, ginger and chilli, then the spices. Add the chicken, coconut milk and almonds. As soon as it starts bubbling, turn the heat right down and stir in the yogurt. Let it simmer away gently, stirring occasionally, while the rice finishes cooking.
Serves two. (Note - don't be put off by the fact that it looks like a Vesta Chicken Curry).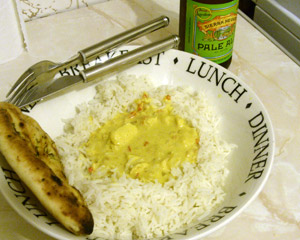 27/08/09 : Tim's tip of the day (#2)
If you hand-code everything, including a blog, you will probably use loads of php-includes to avoid having to rewrite the same bits of code again and again (and to avoid having to re-write practically everything if you want to make any global changes). I would advise anyone doing this to use the variable $_SERVER["DOCUMENT_ROOT"] rather than the actual server path. This will save you the bother of having to change the code on every single page if you move servers, which would be seriously fucking annoying.
I hope you find this advice useful.