Archive : August 2006
31/08/06 : Proms and stuff
I'm currently enjoying the televised proms concerts on the BBC. There's been some good stuff - Tchaikovsky 4, Sibelius 5, Shostakovich 7, and Beethoven's 3rd Piano Concerto nicely played by someone I'd not heard of before - who unfortunately is one of those people that pulls the kind of faces while playing that make him look as if he's constipated. Which reminds me of a bad joke:
Q. What's brown and sits on the piano stool?
A. Beethoven's last movement...
More good stuff to follow - Beethoven 9 on Sunday, Shostakovich 10 next week - and then the last night to look forward to ...
Actually, I hate the Last Night of the Proms. I'm just not the flag waving type (as this post shows). I'm not going to go on about it here - I posted about it on my old blog (here) and there's an interesting Comment is Free post on the subject here. This comment, from "WillDuff", pretty much sums up my feelings:
... the dreadful impression this gives of the UK, and the dreadful impression this gives of classical music. Classical music is marginalised and derided by politicians and the media ... this is partly because it is perceived to be middle-class, elitist and irrelevant. So if the main view that people have of classical music is a bunch of pompous idiots creaming themselves over Land of Hope and Glory - which undeniably belongs to a long-gone era - what hope has music got?
I'll probably still end up watching though.
08/08/06 : Tim gets a job
I lost my last job on the day April (youngest offspring) was born.
In some ways this was a bad thing. I liked the job. It was at a small music shop selling printed music, accessories and some instruments. There was a friendly, relaxed atmosphere (although it did get very busy at times) and many of the customers were professional musicians who I knew fairly well already.
In other ways it was a good thing. New born babies are a lot to cope with and I was around to help out (and watch her development). Plus of course I'd rather be doing what I want at home than wasting my life away at some job . . . unfortunately, once you've been out of work for a few months you get hassled by the Jobcentre to apply for any old shitty job. And they send you on pointless courses.
Anyway, I am now a delivery driver for a wholesale food company. I'm mainly covering the weekends, so I get lots of time off in the week - and the job itself isn't too bad. Getting up at 4 a.m. isn't particularly pleasant, especially as I have to be in bed the night before by 11 p.m. rather than about 2 in the morning (I'm naturally a night person) - and driving to work on virtually empty streets in the dark is just weird. The advantage though is that I've finished by about lunchtime and have the rest of the day free.
The first couple of hours work are generally boring - picking orders from the warehouse and loading them onto the van. It's much better once I'm in the van though - I like being on my own just getting on with it, I can listen to the radio and I quite enjoy driving a big van around (it's amazing how much less crap you get from other drivers when you have a larger vehicle).
The van is long as well as just big, and there are some tight spots to get into. There are restaurants right on the seafront for example - the picture below (taken on a rather overcast day - autumn is on it's way) shows the steep, narrow slip road down to the beach at Southbourne.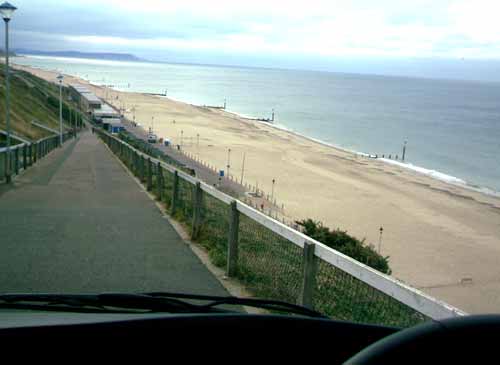 Another regular drop is on the beach front near Bournemouth pier - easier to get down to, but once there you have to reverse for about 500 metres along the beach road avoiding all the other delivery vehicles, stacks of deckchairs, canoes - and the blind/suicidal holidaymakers.
The sad thing (in a way) about doing this job is that, after thirteen years, I've had to give up my position as organist at Iford United Reformed Church. I did actually like a lot of the music, and I'll particularly miss the services at Christmas and the Easter cantata. And being an atheist church organist was a interestingly bizarre experience ...